LANAP™ Procedure
Minimally Invasive Gum Disease Treatment
Your Alternative to Gum Surgery
Click Here to Schedule Your Consultation >>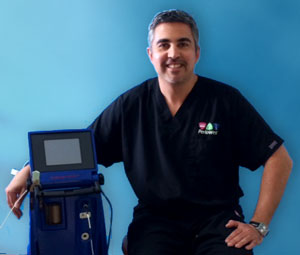 LANAP™ is a gentle, conservative, non-invasive method of treating gum disease without cutting, suturing or removing tissue. Using a precision laser, the periodontist is able to kill up to 99% of the disease-causing bacteria in the periodontal pockets. Because there is no defense against the laser, the bacteria can not adapt and avoid elimination as with antibiotic treatment.
There is no cutting or suturing as with traditional methods of treating periodontal disease. This provides a fast, virtually pain free procedure that effectively treats periodontal disease.
Additionally, the precision of the laser allows the periodontist to avoid removing significant tissue. This allows for a faster recovery and minimal loss of tooth and bone structure after the procedure.
True Regeneration - explanation of new FDA clearance for LANAP protocol to regrow bone
Benefits of LANAP™
Laser Periodontal Therapy
on ABC News Featured on ABC News Los Angeles
Laser Assisted New Attachment Procedure (LANAP™) is an amazing breakthrough in periodontal treatment. In appropriately selected cases, these benefits include:
There is much less discomfort with LANAP™ LASER PERIODONTAL THERAPY than with standard surgical procedures - during and after the procedure. There is no cutting with scalpels or suturing.
LANAP™ LASER PERIODONTAL THERAPY takes LESS TIME than traditional surgery. All it takes is two 2-hour visits to the office and two follow up visits. Traditional surgery requires four sessions of about one hour each, with subsequent visits for suture removal and additional check-ups.
It gives better, longer-lasting results. In fact, 95% of treated patients remain stable after five years.
Many patients find that they have less than a 24 HOUR RECOVERY period, so you won't lose time from work. Following traditional surgical procedures, recovery can take between to 2-4 weeks during which patients can experience pain and swelling and may require a liquid diet.
Laser Assisted New Attachment Procedure (LANAP™) is safe for patients with health concerns such as diabetes, HIV, hemophilia, or those taking medications such as Coumadin or Cyclosporin.
The Procedure
Because your resistance to disease is affected by many factors, we will begin your first visit with a review of your dental and medical histories. This is followed by a thorough periodontal examination of your mouth and discussion of findings and treatment options. You may find it helpful to bring your spouse or a friend with you to this appointment. In most cases, no treatment is performed at this visit.
On your treatment appointment, a small laser fiber is inserted between the tooth and the gum and the bacterial infection is removed. It takes just one 3 to 4-hour session and we can treat the entire mouth in one appointment. Most patients feel fine returning to work the very next day.
PerioWest
5
out of
5
stars based on
2
Dental Implant reviews.
---
Our Google Patient Review
I'm a huge fan now of Lanap surgery and Dr. Sanchez. The Laser surgery saved my gums, my teeth, and the process was practically painless (he uses the Magic Wand" for the novocaine, which means zero pain). MY CONCERN: Another periodontist had first recommended traditional gum surgery, where they cut down and stitch the gums . But several friends had more problems under their crowns afterward (I was nervous enough about getting surgery, now add the fear of making a mistake, and spending even more afterward) MY RESEARCH: So I went researching....and my dentist recommended Dr. Sanchez as someone "on the cutting edge". I even watched netflix during the surgery. PLEASE - save your gums and prevent possible problems with traditional surgery. Check out Lanap laser surgery first. It costs a bit more, but worth it. Every one who has severe gum problems like I did should at least get the information on it.
- Mark Richardson
Our Google Patient Review
Dr. Sanchez recommended the LANAP procedure as I have deep pockets that hopefully the procedure plus following the after care instructions will help heal. His staff is very professional and friendly. I feel comfortable at the clinic and like the fact they use the latest equipment and techniques. I am easily bored when at the dentist so the fact they have Netflix is a big plus for me - I have never understood why so many dental places expect you to lay there for an hour or two staring at their acoustic tiles. I was especially impressed that he took the time to call and see how I was doing after each treatment. I am never left sitting in the waiting room - they respect my time which I also appreciate. If you need periodontal work - I would highly recommend Dr. Sanchez and his elite staff.
- Tim