Meet Our Team
Click Here to Schedule Your Consultation >>
Dr. Andres R. Sanchez, Periodontist
Dr. Sanchez hails from Santa Fe, Argentina, where he was both born and raised. His journey into the dental field commenced at Rosario National University in Argentina, where he attained his dental degree in 1995. In the subsequent year, 1996, he further honed his expertise through a one-year fellowship in general dentistry. His practice thereafter revolved around general dentistry with a keen focus on periodontics and implant dentistry for a span of five years.
In 2004, a significant milestone was reached as he earned his Certificate & Master's Degree in Periodontics from the renowned Mayo Clinic in Minnesota. As the years progressed from 2005 to 2008, Dr. Sanchez served as a dedicated Assistant Professor at Marquette University School of Dentistry.
Distinguished recognition came his way when he was bestowed with the Abram & Alicia Chasen Teaching and Research Fellowship by the American Foundation of Periodontology. Dr. Sanchez's involvement in academia extends to being a valued reviewer for multiple Periodontics & Implant Dentistry journals. Moreover, he stands as a primary author behind over ten scientific papers of note, which have graced the pages of major Periodontal and Implant Dentistry journals.
Dr. Sanchez demonstrates an unwavering commitment to ongoing education, exemplified by his completion of advanced training programs. He has successfully undertaken comprehensive training in laser Lanap surgery. Furthermore, he has delved into the intricacies of periodontal microsurgery and the adept management of periodontal disease pertaining to both dental teeth and implants, under the esteemed guidance of Dr. Cortellini.
Beyond his professional pursuits, Dr. Sanchez embraces a fulfilling personal life. A husband and father of four, he finds joy in spending cherished moments with his family. His leisure hours are often occupied with biking, cooking, and exploring new horizons through travel.
Our Team
Mariana – Office Administrator, FAADOM
Mariana assumes the pivotal role of ensuring the seamless daily operations of the office, while simultaneously elevating the standard of customer service for patients. Beyond her administrative ability, Mariana takes pleasure in engaging with patients and explaining the advantages of periodontal treatment. She earned her B.A. in International Business and Management from Augsburg College. She is a Fellow member of the American Association of Dental Office Management, showing her commitment to staying on top of her game. During her spare time, Mariana finds fulfillment in spending time with her family, traveling, and reading.
Kim – Treatment Coordinator
Kim is the friendly face that greets patients with a warm smile, takes care of appointments, and handles any concerns they might have. Having spent seven years in the medical healthcare industry, Kim made the transition to the dental field in search of a fresh and thrilling experience. Outside of work, Kim enjoys her quality time with her family and weekends spent at a lakeside cabin.
Sasha – Dental Assistant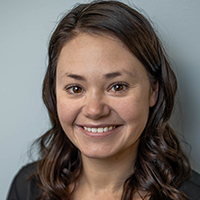 Sasha has been a Licensed Dental Assistant since 2017 specializing in surgical procedures alongside Dr. Sanchez. Her passion lies in creating a familial atmosphere for patients, putting them at ease throughout their dental journey. In her spare time, Sasha's life is a whirlwind of activity, managing a bustling household with three kids, a husband, and two four-legged companions, Lucky and Bruno.
Karen – Dental Assistant
With more than two decades as a Dental Assistant, Karen's expertise lies predominantly in the realm of oral surgery. She finds joy in performing surgical procedures and takes pride in ensuring patients' utmost comfort. Before stepping into the dental field, she spent around five years as a Medical Assistant. Beyond her professional pursuits, Karen is a true animal lover. Her spare moments are devoted to her cats and dog, and she's also dedicated to rescuing senior dogs.
Anne – Dental Hygienist
At the heart of Anne's role is her unwavering dedication to patient care. She goes the extra mile to ensure her patients feel at ease, fostering an environment of comfort and providing top-tier care. Anne's enthusiasm lies in educating her patients about the integral link between oral health and overall well-being. Her journey started with a Bachelor of Science degree in Dental Hygiene from the University of Minnesota in 1995. Beyond her professional endeavors, Anne thrives in family moments, cherishing time with her husband, kids, grandchildren, and her four-legged companion Bella. Her passions extend to cooking, biking, indulging in live theater and movies, and relishing gatherings with friends.